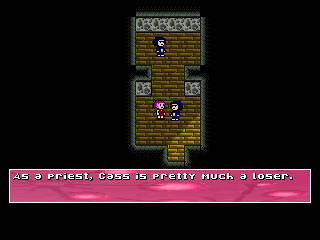 This is the last of the daily screenshots for a while, just because I don't want to clutter the Gruedorf aggregator every day with minor updates. Rest assured that I'll still be working to the best of my ability/schedule every day, though. This will just give you a whole week to worry about what I'm doing, and how far you are falling behind. Fear is the heart of the Gruedorf, just as it is perhaps the heart of its primary participants.
If all goes well, I can have a first release ready probably at the start of September. The key is to resist the demo-birthing urge until the game is actually done. Since all told it'll be a pretty modest game--like two, three hours start to finish--I think I can manage this.
As far as yesterday went:
- I did make a new sprite, but not the dude in the hat--just the basic evil priest. Now the world is entirely populated with ciphers, teenage girls, and evil priests. It is much like the real world in this.
- The charge times work for a maximum of four party members, one enemy. The first release is probably just going to involve one enemy, even though it wouldn't be hugely complicated to involve more than that I guess. Fight also works pretty much as it'll eventually work, even if the damage calculation needs revising.
- Blackwood is basically laid out. Still need to make a bunch of "clutter" tiles, beds, empty glasses and such--one or two things a day and we'll be good.
- I worked out the plot scene by scene for the first maybe fifteen-twenty minutes. Stupidly though I decided that the first scene had to happen in the town rather than in this elaborate Blackwood map, so the next job is to lay out an entirely different map with different tiles. Then I can actually start, you know, making this into a game with story and things.
- Started reworking the font to be more like my comics handwriting (
http://fictioncircus.com/mwhf
). You can see the letter A in the screenshot (the rest of the font is just swiped obviously.) Also, I learned that Verge has a basic function called "EnableVariableWidth", which means I can stop frantically trying to design a function to enable variable width fonts. This is sort of like the time I realized there was a function called "SetEntitiesPaused", huh
- Overkill warned me about getting involved in his rivalry with SDHawk and Thrasher, so I guess all of them have to be my arch-enemies now. Backing down would be a craven act, more suitable to a low beast than a man. Clearly my manly pink textboxes will be the banner of victory in this match.
Goals for next week:
- Lay out Tack entirely and code at least those first fifteen minutes of story. Make some basic town tiles suitable to a horrible desert. Keep making "clutter" tiles for Blackwood as well, beds and beers being the most critical of these.
- New sprites: town guard, guy in the hat. Sheriff if time.
- Refine the battle system yet more: implement spell and item menus and make all of the basic battle commands work. Drop "Run" from the commands list (cowards!) Also make it so that MapInit always loads scene-appropriate battle backgrounds, even if I do love that Dragon Warrior thing.
- Finish the new font.
So: weekly now. See you all Saturday next.